New wave KPOP girls band (newest one).
The group's name stands for "New Evolution of the 21st Century". More dynamic and targeting a little different teenage fans then SNSD, Wonder Girls. I love their PVs, very interesting. And HD quality gives additional feeling. Offten perfoming with Big Bang – I don't like male groups as you see.
Bio:
2NE1 (Korean: 투 애니원; pronounced "to anyone" or "twenty-one") is a South Korean girl group created by YG Entertainment.
Members: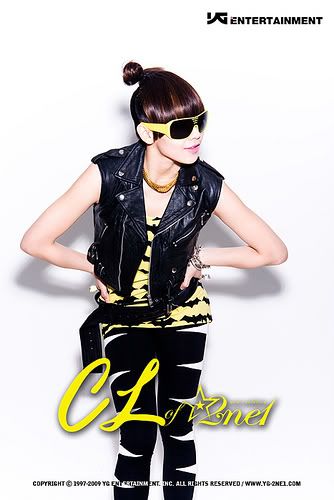 Stage name: CL
Name: 이채린 Lee Chae L/Rin, Faith Lee
Birthdate: 2/26/91
Roles: leader, rapper, vocals
Height: 162 cm
Specialties: French, English, Japanese;
Name: Sandara Park; Sandy, Dara, Kiray
Birth Date: November 12, 1984
Height: 162 cm (5′ 4″); Weight: 40 Kg
Specialties: Acting, Tagalog, English, Chinese
Stage name: MinJi
Birth date: January 18, 1994
Height: 152 cm (5′)
Hobbies: Music, lyrics, studying lyrics
Specialties: Chinese, Japanese
Position: Singer, Rapper, Dancer
Name: Park Bom (Jenny Park)
Birth Date: March 24, 1984
Height: 165 cm (5'4″)
Education: Lesley University majoring in Psychology, Berkley College of Music
Specialties: English, Japanese, flute, cello, piano
Postion: Lead singe
PV "Fire" was released as planned on May 6, with two versions of the music video — a "space" version and a "street" version — released the same day. The videos received over one million views in a day! HD version bellow. Recently they did a few other good PVs (imho including not so successfull as others
Follow Me
2010).
Check:
PVs:
2NE1 – Fire (Street Ver) HD 1080p GomTV.avi
2NE1 – I Don't Care HD 720p GomTV.avi
Big Bang ft. 2NE1 – Lollipop.ts